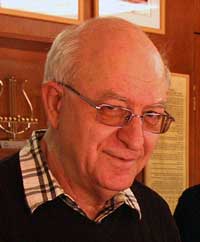 Uri Avner. Credit: wfcc.
We are sad to report that the Israeli player and composer,
Uri Avner
, had passed away this Thursday. A brief biography of his problemistic achievements is found
here
. The same site also has a notice of his passing.
He was a strong OTB player (e.g., IDF champion 1961, member of the Israeli Students' Olympiad team a few times, etc.), with a FIDE rating of about 2250. But he was best known for his problemistic achievements, having left competitive chess for problem composing ca. 1970.
There, he made Israel a powerhouse in the field (organizing three PCCC congresses in Israel for example), and reached the very top of the organization -- the head of the FIDE Permanent Commission for Chess Compositions. He was also a GM for chess composition.
There is a lengthy, and very good, obituary in Hebrew
here
by
Ram Soffer
, from which the above summary is taken. It is at the Israeli Chess Federation's web site.
There is also one of his last -- and very entertaining -- lectures online, at
this link
, and one can see a few of his games
here
.
On a personal note, Avner, a psychologist by training, had a very acid and funny sense of humor. Three examples from my personal experience:
(After he got off the phone with a certain chess organizer who was, and still is, very good as an organizer, but only a mediocre player): "Ever since he broke 1750 in the rating list, he demands the honor such an achievement entails."
(Discussing with me whom to invite to an ICF meeting): "The only two people I know who would draw a crowd are myself and
Adrian Schwartz
...
[a chess playing serial rapist who just got paroled - A. P.]"
(About his composing style): "I compose anti-Merediths. That's the number of pieces left off the board when I'm done."